It is now common practice for Fort Worth police officers to ask you to consent to a blood test or force you to take one. Most other police departments in Tarrant County will do the same. City judges are on the job at all hours of the night to sign the warrant if you refuse.
This article details some of the issues that come up when blood is drawn. This is a surface level discussion of the issues a good DWI attorney must tackle. For how blood is actually tested, click here. For breath tests, click here and here. For more on field sobriety tests, click here.
Texas law states that a blood draw must be conducted in a sanitary place, and that only a physician, qualified technician, chemist, registered professional nurse, or licensed vocational nurse may administer DWI blood draws. There are many procedures which police and medical personnel must follow when taking DWI blood draws, and likewise there many ways that defendants can challenge the accuracy.
The Risk of Contamination
Bacteria can compromise a blood sample and distort the accuracy of DWI blood draws if the area from which the blood is drawn is not properly disinfected. Betadine solution is the reddish-orange looking topical solution you've probably seen. It is applied to disinfect the skin before blood is drawn. The proper technique involves swabbing the area in a spiral motion of concentric circles to force bacteria away from puncture site. Often the solution is applied incorrectly in back-and-forth motion, opening the door to contamination.
Fungus Can Create False High Readings
Fungus is another source of contamination, and fungus is more difficult to kill than bacteria. Candida Albicans is fungus that is present on human skin and grows as a yeast. If Candida Albicans gets into the blood tube it can produce ethanol if it is mixed with sodium fluoride. Sodium fluoride powder is present in the blood tubes as a preservative! This will create falsely high BAC readings and will contaminate DWI blood draws.
DWI Blood Draws:

Blood Tubes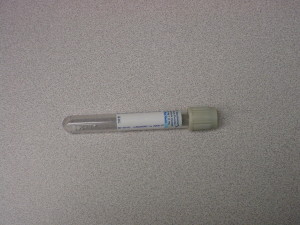 DWI Blood Tests
Vacuum Pressure of the Tube
There are ways to challenge the integrity of the blood tubes, which are sealed and sterile when they leave the manufacturer. BD is the medical technology company which manufactures the gray topped tubes used in DWI blood draws. Each tube has enough vacuum pressure to draw 10 milliliters of blood. If a tube does not draw 10 milliliters of blood it may indicate that the vacuum tube has been compromised and may be contaminated with yeast or bacteria. The expiration date printed on the tube applies to the vacuum tube and not the chemicals.
Your Blood is Delicate!
Each gray topped BD tube has 100mg of preservative sodium fluoride and 20 mg of anti-coagulant potassium oxalate. Once the blood is drawn into the tube, the blood must be immediately mixed with these chemicals. This process is called an inversion. Inversion consists of delicately turning the tube upside down between 8-10 times. The red blood cells are easily broken, and shaking the tube will compromise the test.
DWI evidence is technical and complex. It is essential that you retain a DWI attorney who has the skills to challenge it.
Were you arrested for DWI? Call me to set up an appointment for a free and confidential case evaluation. 817-689-7002. Our office is downtown: 108 Main Street, Fort Worth, TX, 76102